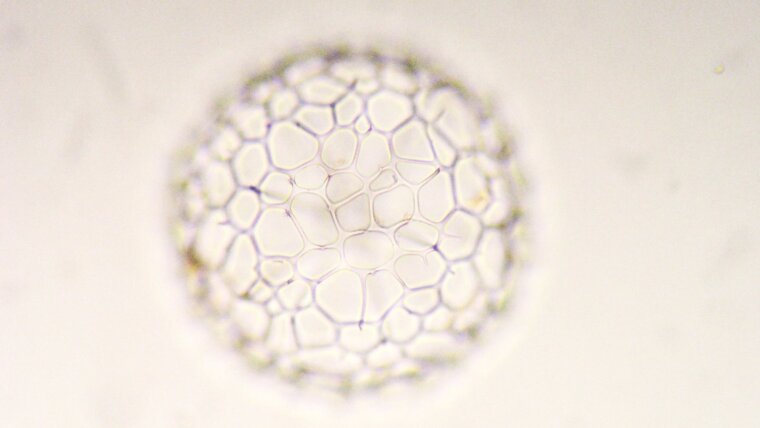 Research
Microphotograph of a radiolarian
Research at the Ernst-Haeckel-Haus is dedicated to the history and philosophy of the natural sciences and it uses a wide range of methods. With a focus on historical epistemology, it combines historical, philosophical, cultural and social-scientific analyses of knowledge and science from the 18th to the 21st century. We are interested in the specific culture of the natural sciences – their theories, practices, instruments and objects – as well as in the role of science in modern culture and societies.
Research fields at the Ernst-Haeckel-Haus include the history and philosophy of the life sciences, science and technology studies, the history of philosophy and science as well as the perspectives of cultural and gender studies on knowledge and society.
In our projects we pursue topical issues in the history of science: from natural science and the philosophy of nature in the 18th century, through the reciprocal relationship between philosophy, science and anthropology in the 19th and early 20th century up to modern genetics and cloning research in the 21st century; from the tense relations between science, politics, religion and society up to global knowledge transfers, material cultures of scientific practice and the history of objects. Further research topics are 19th and 20th century discourses on race and gender.
Competing for interpretive sovereignty in cooperative committees: Bioethical debates and the development of a regulatory policy for the life sciences in Germany in the 1980s, (Anna Klassen & Christina Brandt; DFG-Project)

Network: History of Bioethics and Medical Ethics in Germany

Anthropological Epistemology. Between Philosophy and the Life-Sciences in the 20th Century

Network: Philosophical-Historical Works

Ernst Haeckel (1834-1919): Letters Edition, Academy Project

Ernst Haeckel as Botanist – Reconstruction and Contextualization

Theodor Swann's Unpublished Work: Studies on the Relationship between Biology, Religion and Politics in the 19th Century

History of Science Workshop: Matthias J. Schleiden (1804-1881) in Jena
Cooperations

Zentrum für Wissenschaftsforschung der Leopoldina /Halle
Herbarium Haussknecht, Jena 
Phyletisches Museum, Jena
Deutsches Optisches Museum, Jena
Projekt zur Geschichte der Max-Planck-Gesellschaft (GMPG, MPIWG)
Professur für Wissenschaftsgeschichte, Prof. Dr. Kärin Nickelsen, LMU München, Historisches Seminar
Professur für Neuere deutsche Literatur, Jutta Müller-Tamm, Freie Universität Berlin, Institut für Deutsche und Niederländische Philologie & Max-Planck-Institut für Wissenschaftsgeschichte (Studientag: "Literatur und Wissenschaftsgeschichte")
Margherita-von-Brentano-Zentrum für Geschlechterforschung/Forschung und Forschungsentwicklung, PD Dr. Susanne Lettow, Freie Universität Berlin
Institut für Grundlagenforschung zur Philosophiegeschichte (IGP), Prof. Dr. Gerald Hartung, Bergische Universität Wuppertal
Abteilung für Geschichte der Naturwissenschaften mit Schwerpunkt Pharmaziegeschichte der TU Braunschweig, Prof. Dr. Bettina Wahrig
Professur für Philosophie und Wissenschaftsgeschichte, Pierre-Olivier Méthot, Institut für Philosophie, Université Laval (Canada)
Dr. David Pantalony (Ottawa, Canada) and Prof. Dr. Roland Wittje (Madras, Indien)
Prof. Dr. Christian Oberländer (Halle)
Prof. Dr. Richard Kremer (Dartmouth College, Hanover), Prof. Dr. Peter Heering, Flensburg), Dr. Johannes-Geert Hagmann (Deutsches Museum München) International Course on Material Culture in the History of Physics.
Prof. Dr. Olival Freire, Universidade Federal da Bahia, Brazil
Innovation through Knowledge Circulation. Research Technologies as Knowledge-Bearers in Circulation Processes in and between Innovation Cultures

Innovation through Knowledge Circulation. Research Technologies as Knowledge-Bearers in Circulation Processes in and between Innovation Cultures

DFG-Projekt

PD Dr. Christian Forstner

City Communication Space: Sites in the History of Physics in Jena

City Communication Space: Sites in the History of Physics in Jena

A Guide to the History of Physics for Jena

PD Dr. Christian Forstner